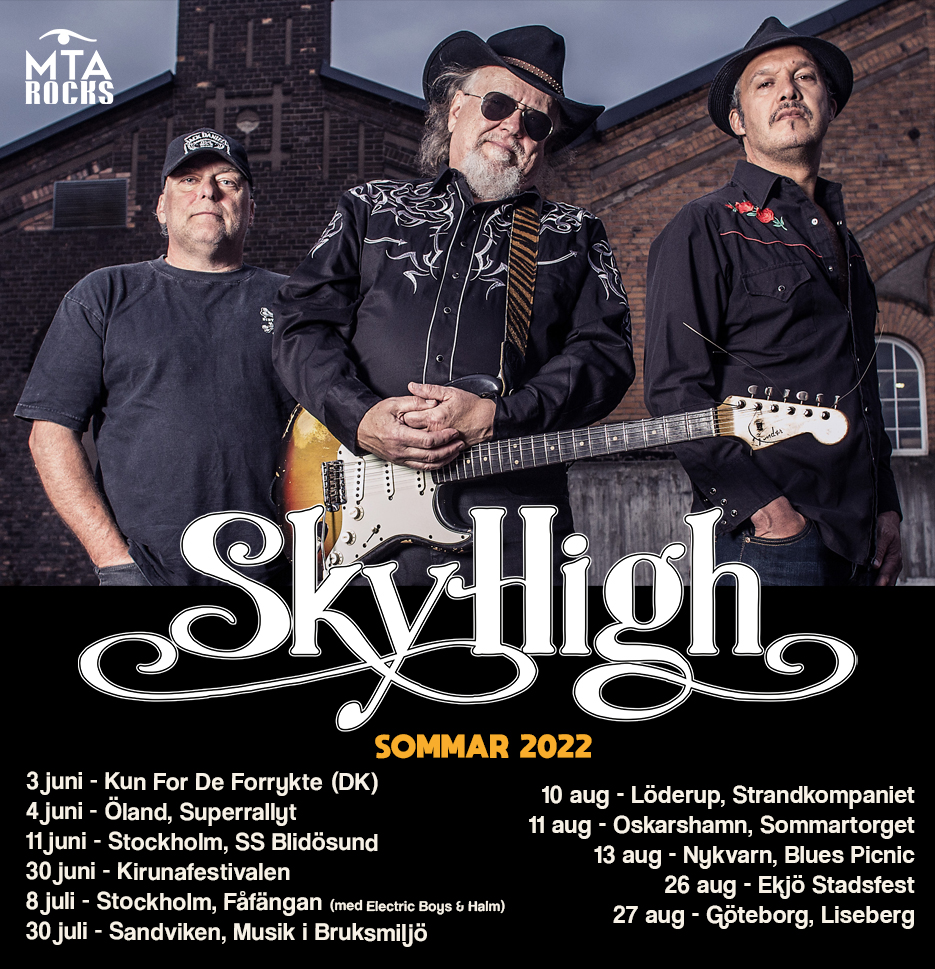 Månadens artist: SKY HIGH
Bandet Sky High startade på punkklubben Errols i Göteborg på senhösten -78 och fick sitt första genombrott genom liveprogrammet "Tonkraft" i Sveriges Radios P3, som sändes i maj 1979. 1988 framträdde de under den stora Jazz & Heritage Festival i New Orleans. Bandet blev inbjudna av Chuck Berry och hans management efter att de rest som support till rocklegendaren i Norden.
– Chucken tog mig avsides efter en spelning i Folkets Park i Åhus och sa "I Love Your Music, I´ve been listening to you each night – AND you can really play them lowdown blues", varefter han bjöd in oss till mysstund med juice och fotografering i sin loge, berättar Clas.
Clas och Sky High har sedan starten gjort tusentals spelningar i Asien, Afrika, Europa, Nord och Sydamerika. Under denna tid har Clas gjort 21 fullängdsalbum, varav 17 med Sky High.
Sky High åker på turné under 2022 och firar 40 år tillsammans som band med albumet "20 från Fyrtio", (20 spår från 40 år tillsammans). Det är låtar, nostalgi och anekdoter från bandets fyra decennier tillsammans.

– ÄNTLIGEN! En sommar utan restriktioner. Spänn fast fallskärmarna, we're going SKY HIGH! säger Clas.

Clas är en otrolig berättare och själv ett stort musik-fan. Vi får under konserterna höra om Clas egna upplevelser av Jimi Hendrix, Cream, Clapton, Janis Joplin och ZZ Top samt deras låtskatt.

3 juni – Kun For De Forrykte (DK)
4 juni – Öland, Superrallyt
11 juni – Stockholm, SS Blidösund
30 juni – Kirunafestivalen
8 juli – Stockholm, Fåfängan (med Electric Boys och Halm)
30 juli – Sandviken, Musik i Bruksmiljö
10 aug – Löderup, Strandkompaniet
11 aug – Oskarshamn, Sommartorget
13 aug- Nykvarn, Blues Picnic
26 aug – Ekjö Stadsfest
27 aug – Göteborg, Liseberg
Bokas av: Hilda Sandgren