MTA är på väg till Womex i Lissabon Portugal, i samband med mässan har MTA startat två nya spännande samarbeten med prisade artisten Lena Jonsson och en av de största finska folkmusikbandet Frigg
Prisvinnande svenska fiolspelaren Lena Jonsson är en av dom mest inflytelserika fiolspelarna av hennes generation. Hon har förmågan att balansera den djupt rotade och traditionella svenska folkmusiken med innovativ artistisk känsla, Lenas smittsamma livsglädje och rock-star karisma har gjort henne till en av Sveriges mest visionära musiker. Hon har skapat ett unikt sound som inspireras av rock, pop och de amerikanska old-time och Bluesgrass traditionerna. Under 2021 var Lena Jonsson Trio det första svenska bandet som vann en svensk Grammy, Manifestpriset och "Årets Album" av LIRA Musikmagasin under samma år.
… one of the best crafted 'new traditions' compilations I've heard for a long time."
– The Living Tradition
"I love the balance between virtuosity and musicality on this album. Jonsson can play, there is no doubt about that, but she never attempts to outshine the tune itself or the players around her."
– Folk Radio UK
"En skiva att ge till den som undrar hur svensk folkmusik låter och mår 2020 "
– LIRA Musikmagasin
"Som fiolist är Lena Jonsson svårslagen. Hon svingar stråken som ett trollspö. Hennes fiolteknik-hon rör sig så lätt och ledigt så att man kan tro att det är enkelt att spela fiol. Men det är det inte."
– LIRA Musikmagasin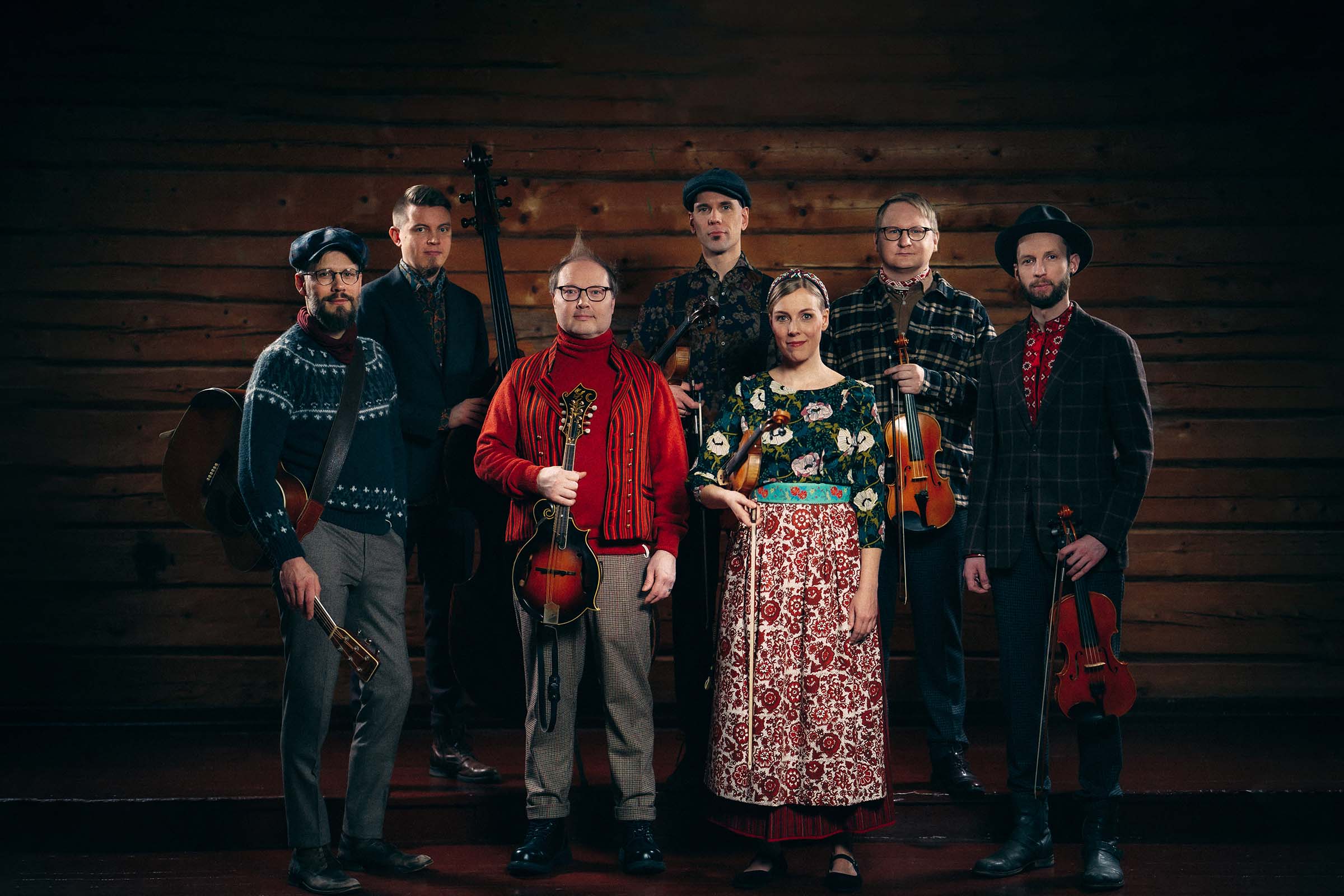 Frigg har blivit erkända världen över, och har under dom senaste 20 åren erövrat folk- och världsmusikscenen. Bandet är en konstellation av denna generations främsta och bästa finländska folkmusiker som förenar sina djupa nordiska rötter med västerländsk folkmusik och Bluegrass. Resultatet – Friggs unika och exceptionella sound, lekfullt döpt till "Nordgrass". Fyra fioler, mandolin, citter, gitarr och kontrabas sammanstrålar i en glittrande och högenergisk show som är polerad till perfektion – och som skapar ett bestående intryck på lyssnare världen över.

The band's line-up is established as an ensemble of four violins, string instruments and a double bass. In the spring of 2002, the band's first album is published, and Frigg is becoming a popular topic of discussion amongst the Nordic folk music circles. As the Nordics become ever smaller, European folk music events quickly become familiar to the band.

Frigg's pace only accelerates and a hunger for more grows. Their music is living and taking on new directions and nuances. Audiences are in awe of the band's ability to transport listeners to traditional Finnish polska, bluegrass and Balkan rhythms and all the way to the dynamics of classical music, as if there were multiple groups performing on stage! The tight ensemble performance and a candid stage presence work. Frigg is able to turn their gigs into a scenic experience, giving their listeners a break from the greyness of the world.
Tommi Asplund, violin
Alina Järvelä, violin
Tero Hyväluoma, violin
Esko Järvelä, violin
Petri Prauda, mandolin and cittern
Juho Kivivuori, double bass

Bokning sker via Malin Kairis & Hilda Sandgren